Have you ever had requotes when you do order ?, it is very annoying isn't?. Requote must have occurred when the broker offers Instant execution order type, and it is more widely used by the dealing desk broker type, and it will become more frequent when the market is experiencing extreme movement due to fundamental news releases or other issues.
Perhaps you think that requotes  is broker cheating, but unfortunately not, but this is a characteristic of brokers who use instant execution order type. Requote occurred because the price of your order is not available in the market due to price changes faster than you do click order. So MT4 server re-offer price is available now in the market. Different of market execution order type, when you do the order and the price of your order is not available in the market, then your order will be executed at the next available price in the market so there is no requotes.
How to Solve Requotes Peoblem?
To overcome requotes when order in MT4, you must to enable the maximum deviation when the order window appears. You check  "Enable maximum deviation from quoted price", as shown below: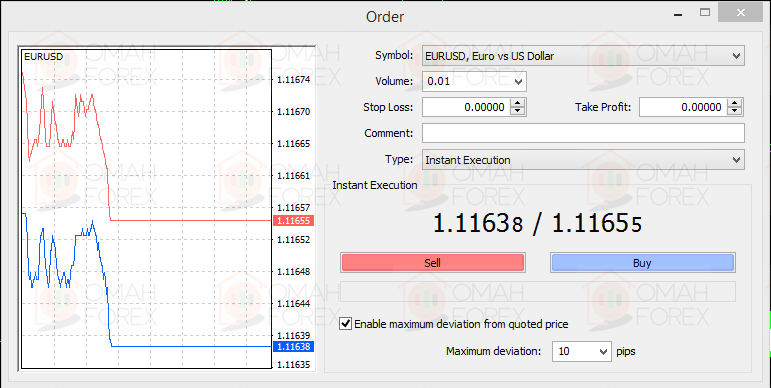 The maximum deviation is allowable number of pips that we still executed orders when the order price changes rapidly due to high market volatility.  Suppose you put a maximum deviation of 10 pips, when you do order Buy at   price 1.1165 and the market price at that moment turned into 1.1170 (price changes from 1.1165 to 1.1170 is 5 pips), then your order will still be executed without a message "Requote", because price changes are still within of the range of maximum deviation that you post. But when prices change rapidly over 10 pips from the price of your order, it will display a message requotes.
If you have put the maximum deviation but you still have "Requote", that means your broker has a "hidden rules" and not transparent, this is usually done by brokers who do not have a tight regulatory  and we recommend  you immediately change your broker with brokers who have strict regulations, you can compare regulated brokers here.